Today I picked up the Datsun from Ken. He spent a lot of time checking everything and making adjustments. The good news is he said the engine appears very clean and the electricals/spark are great.
However, there were three main things he found wrong.
Firstly, the tappets were adjusted far too tightly. Whilst there's a noticeable increase in tappet noise now, they are adjusted correctly and the valves will be opening and closing at the right times.
Secondly, carb 1 was receiving far too much fuel – all the time – due to incorrect plumbing of the vacuum. To cater for this, the carb had been leaned out on the adjustment screw. Ken said after he got the fueling right to the carb, he turned the adjusting screw out two full turns to get it right. This would also explain why plugs 1 and 2 were fouling on me, along with the choke sticking.
Thirdly, the oil pressure sender needs replacing. I'll do this another time myself.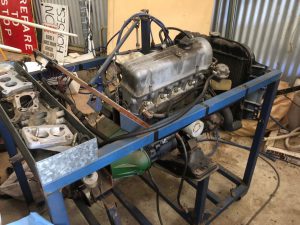 Above is Ken's setup he used for testing carbs on an L18 engine.
The wagon is running like a dream now it's setup and tuned correctly.