I have a love for Datsun cars and lots of fond memories. My first car in 1986 was a Datsun 1600 and two others followed shortly after. Since then, I have repeatedly thought about buying another Datsun 1600. However, today a good example of a Datsun 1600 sells for well north of $20,000. Whilst I might be able to afford one, I can't really justify spending that much money on a "toy" car. Hence, the 180B wagon came into my life in February, 2018. This blog will follow the journey of my 180B.
This was my first 1600. I tidied up the body and sprayed it in the the tiny garage at home. I put twin SU's on it and a sports steering wheel. I loved this car. This is the only photo I have of her.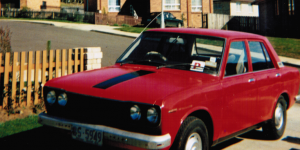 The 1600 below was my second car. I was swayed by the mag wheels, but in reality it was a rust bucket even though it would only have been about 16 years old at the time.