Ever since I've got the wagon, I've been trying to track down an original SSS air-box as I don't like the current setup and I'd prefer it to look original.
The current setup has a filter sandwiched between the original air-box base plate (in orange in the picture) and an outer metal plate, pic below: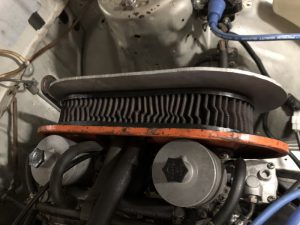 It's been tough trying to find an air-box by itself so I ended up buying a set of twin SU carbs for parts that came with the complete air box (minus filter and bolts).
This should bolt straight up and give an original appearance. Here is the air-box:
The filter didn't come with it and the Ryco A257 which suits, is no longer in production. Luckily I found a brand new one on eBay for $50. Unifilter also make a suitable filter, #UL324 60ST but that's double the price I got the original filter for.
When I get the wagon back from the body shop, I'll make sure it mounts ok to the current base plate, then I will repaint both before fitting.